Bowdrie1999
is an active miniseries writer, known for his miniseries "Rebel's Revenge", "
Skies Of Liberty
", and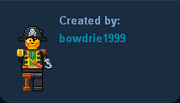 Skies of Liberty: Redemption"
Miniseries
Edit
"I owe a lot to Galv, though. When I was just starting out, he stopped by to help a newbie out and mentored me a lot." [sic]

Bowdrie began with his first miniseries, "Rebel's Revenge". This featured a young rebel's quest of vengeance to destroy his parent's murderers. However, it was never completed. It garnered attention from EmperorGalvinian, who became one of Bowdrie's good friends.
Bowdrie then started a second miniseries, "Skies of Liberty". It featured Captain John Guthrie, a pilot in the Rebel Alliance. This miniseries quickly became one of the most famous on Creations due to its fast-paced action and many cameos. Through this miniseries, Bowdrie met Agenti397, who became another of his good friends. "Skies of Liberty" soon spawned "Skies of Liberty: Redemption", which was created as a parallel story of sorts.
"Vires et Honorum, friends."

Bowdrie is known to be friends with the following, and more:
Miscellaneous
Edit
Bowdrie's miniseries all center around piloting, which distinguishes him among miniseries writers.
He once photoshopped a picture of Ben Kenobi so that there were hundreds of the minifigure, and dedicated it to superseaturtle, one of the greatest tributes to grace Creations.
ErinKenobi2893 recently nicknamed him "Flyboy," a nickname which Bgirlabby quickly picked up on and which Bowdrie feels proud of.