"... Sorry it's a little choppy. :/ Not my best work..."
- Bunniez6729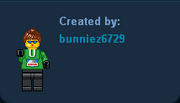 Bunniez6729 is a creator on LSWC. She is the founder of the Bacon Bros.
When she first arrived in LSWC, the first person she talked to was Superseaturtle. She has many friends such as Kingjulian13 and Brickchick105.
Bunniez is the sister of the famous Fearsome Fivesome member Animationwiz. She animates very well, taking after her brother. She uses the program Adobe Photoshop for her art, and once made an animation for Brenkenobi, using a picture of his original character Ra'kor Shay'll a.k.a. brenkenobi, a Jedi of the same name.  She has made people's avatars with a space background for fun, users such as Awesomenoa and Bluepeso. She also put a background on FrodoLovesBacon's miniseries picture.
Community content is available under
CC-BY-SA
unless otherwise noted.