Clones321
is a user on LSWC. He is also a member of the
582nd Club
.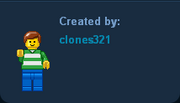 He is the leader of Cato Squad in
The Elite
. He is nicknamed "Jace" by his friends.
Clones321 has had one mini-series, named "Brothers Forever". He has only posted two parts and has forgotten about it. His miniseries  was pretty popular, getting at least 20-25 comments on each one. Though it does not seem like many comments, it was to him when he was just a new user to LSWC. 
He has been on LSWC since June 11, 2012. He has now created many creations an has become very popular with his customs, and his stopmotions. 
Though he is quite able when it comes to GIMP, he still has some room to grow. A lot of people request tutorials from him with GIMP. He is very good at masking, and Light-saber effects.