Creeperaz99 is a user on LSW Creations.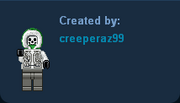 Creations Style
Edit
Creeper's creations are mostly comics about his clones. He also made 10 parts to a miniseries he made called "Hunted." At part 10 he became inactive and it is most likely that he has left. This is because he could not log in on LSW Creations to post.
Creeper also is a fan of the video game "Minecraft".
He has also made a few Minecraft creations.