DalekDurge is a user on LSWC.
Creations Style
Edit
Many of DalekDurge's (or Dalek's) Creations revolve around his miniseries "
The Courageous Six
" which is about his character, Gard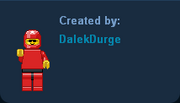 o "Dalek" Rogun, and his team fighting battles against evil. When he first came onto the site he made many Photoshopped pictures, and also made some comics as well.
Miniseries
Edit
DalekDurge has made a few miniseries, including:
What If? - A series made with the site's comic builder, following an alternate turn of events in which C-3PO and R2-D2 are never captured by the Jawas in Episode IV. Incomplete.
Doctor Who Vs Star Wars - A crossover comic series between Star Wars and Doctor Who, set during the Battle of Endor. Incomplete.
The Courageous Six - A miniseries featuring Gardo "Dalek" Rogun and his team fighting against evil. Incomplete. This miniseries has five episodes, each several parts long.

If you would like to have a look at DalekDurge's creations, they can be found here: [1]
DalekDurge is also a member of this wiki, his user page can be found here.