Icantcarryit4ubuticancarryu is a user on the LSWC gallery.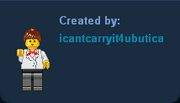 She is more commomly refered to as Icant or Sean. Her best friends on the gallery are
Kingjulian13
,
Galaxyfox39
, and
Bgirlabby
. She is also on the LEGO
Lord of the Rings
Gallery.
Icant posted her first creation on Feb 17, 2013. She also posted a drawing of Anakin Skywalker.