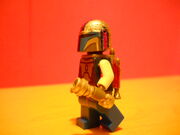 Misslegouniverse2143
first introduced her character, Jalana Quatrix, in her first creation, "Battle of Geonoisis (MY VERSION)." She based these charcteristicts partially from herself: violent, impatient, serious. and likes money. Jalana also has a younger brother who's quite goofy, who's introduced later on.
How to make Jalana
Edit
Misslegouniverse2143 made Jalana's armor out of a regular Mando, but she made it her own by adding silver glittered nailpolish onto the helmet and jetpack, then on the helmet, she added pink permanent marker and then blue permanent marker. She did the same to the jetpack.
Josin Quatrix
Edit
Brenkenobi's character, Josin Quatrix, is Jalana's younger, dramatic and goofy brother. (Like MLU's little brother). He is eight (8) years old when Jalana is fourteen (14). Jalana and Josin were both in MLU's second miniseries, "Renegade Vs. The Five", helping them find Renegade since they know him well. Josin's personality is very, very goofy and dramtic, as said above. In the episode of Renegade Vs. The Five, (part 18), Josin proves such:
"He's not here, like I knew he wouldn't", said Waros32. "I'm starting to agree with Waros32," said Samdudeman120. Josin stepped on a trashed step-stool, put it by Sam, stepped on it to be his height and said as he shook him by the shoulders, "Don't give up, you Bantha steak!" screamed Josin. Samdudeman120 looked at him confused. "What did you say?" "You heard me. 'Don't give up, you Bantha steak!'" said Josin as he stepped down the stool."
That is an example of Josin's character.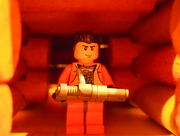 Nicknames
Edit
As siblings, they give each other nicknames that annoy each other, like Jalana gave Josin the name, 'Zizi', and he gave her the name, 'Lela'. That is also something Misslegouniverse2143 based that also off her relationship with her brothers.
Community content is available under
CC-BY-SA
unless otherwise noted.