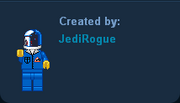 JediRogue
is a creator on the Lego Star Wars  gallery. He is known mostly for his drawings, battle scenes, ships, and
miniseries
.
"You guys can't get rid of me! Look for my coming when the days grow longer."
Rogue began in July 2011. He mostly commented on Samdudeman120's creations, where he also met Superseaturtle. The three of them were practically inseparable. He enjoyed teasing Superseaturtle quite alot. In the summer of 2012, he began his job as a lifeguard. He was rarely ever on Creations, and was considered inactive.
Since then, he has been semi-active, at certain times more so than other times, sometimes leaving comments on Samdudeman120 or Superseaturtle's creations, or posting a part of his miniseries, The Gideon.
JediRogue also was the leader of
the Swords of Valor
, a group encompassing the members commandercody42 ,
0996tomph
, sunofshadow5879 ,
superseaturtle
, and EmperorGalvinian .
He announced on January 22, 2013, that he was leaving, but says he will return, "sooner rather than later." Many of his friends were greatly impacted by his decision to leave. After about a week and half, he returned to the gallery with a drawing of his famed "Gideon Squad."
He once had a fan who's username was 'JediRogue96', then the account was eventually deleted by the mods because the user was reported. The user was Brenkenobi.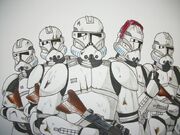 Creation Style
Edit
His first posted creations were mostly midi-scale ships, most notably Galactic Civil War-era ones. His creating style has since evolved, to feature his miniseries (The Gideon), a series about Boracca and Chewbacca, and his quite astounding artwork.
Several users have attempted to copy his work and call it their own, such as poptartfan.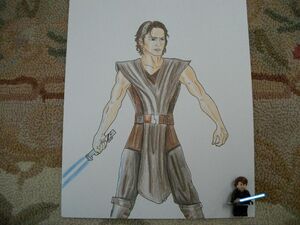 As A User
Edit
JediRogue most certaintly lives up to his username. Rogue is considered a "scoundrel", mostly due to his roguish relation with superseaturtle. He teases her constantly, and has ever since they became friends.
Many users believe that he was a part of the Fearsome Fivesome, which he was not.
It is said that JediRogue appears briefly at the start of every new year. His presence can be felt, and if you're lucky, he may post something special. The Force is strong with him. He is never really "gone."