"Stand strong and never give up," - Kevans3866
Kevans is a great creator and is known mostly for his great stop-motions and animtions. Kevans currently has 150 creations on the LSWC site.
In the Beginning
Edit
Kevans posted his first creation on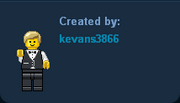 June 9th, 2011 which was titled, "Run For Your Life!"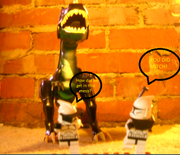 He posted comic themed creations.
More Recent Times...
Edit
A quite good and more recent creation of Kevans, "Buster Bowdrie". He made a tribute to Superseaturtle called, "Turtle Rocks!!!"  He also made a creation about who was the most popular user on LSWC called, "It's Time to Vote Peoples!", posted November 29, 2012. People got outraged about the matter and Kevans apologized. On December 8, 2012, Kevans made a stop-motion for a contest Clones321, or Jace, made called "Clones321 Stopmotion Contest". He made all the music and soundeffects on an app called GarageBand.
Miniseries
Edit
He has made a miniseries called "Hunted: Rising", in which
ErinKenobi2893
had a cameo. It is not clear whether or not he has continued this miniseries.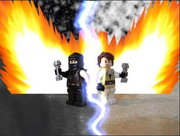 Kevans has also made a miniseries called "The Stupendous Seven", which features Lloyd10, Skoudis,
Awesomenoa
, Animator2012, Crixk,
Brenkenobi
,
Legogimli2000
, and
Alfonsostuperini2
.