Kingjulian13 is a user who is the founder of the 582nd Club. He is also the founder of the "Get Sam On" Movement.
He is known well for his excellent building skills. His stop-motions are also known for their quality. He is also a member of the Bacon Bros. Kingjulian is also know for having done a wide variety of things on the gallery.
Kingjulian13 posted his first creation, Clone Walker, in November, 2011. This makes him a part of the Golden Age of Creations. His posting took off from there, as he posted a number of creations, mostly humor, about Jedi Master Aoriphous and the clones under his command, the 582nd Legion, and Omicron Squad.

He became noticed for his detailed builds, notably his early "General Aoriphous' Starfighter" and "Clone Walker". The latter was later posted in an instruction series. Over time, his creations began to focus on a clone named 27, who took on a role similar to that of Superseaturtle's character "Bob".

On January 31, 2012, he began posting a series called "Darth 3PO's Mission", which gained relative fame.
He created two stop-motion mini movies.
He joined Rex Cody279's RBC club, as Captain Barcus.
582nd Club
Edit
The
582nd Club
, or at least its beginnings, was posted on March 31, 2012.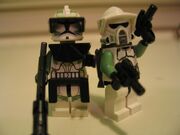 Which led to the founding of
Omicron Squad
.
Stop-Motion
Edit
Kingjulian13 has made two full stop-motion minimovies. He says he is working on an entire stop-motion TV series.
He is said to be making a lego movie which some people like bunniez6729, Joe-Mommuh and Awesomenoa are in. But has claimed to postpone the production for a while.
He made a late Christmas 'present' stop-motion for Superseaturtle.
Kingjulian is also rumored to be making a video series on how to make detailed and sturdy models.
He is also known for his creating of decals. He is even said to have made his own a template.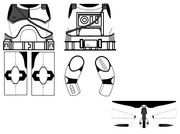 Kingjulian13 is also said to have many duplicate accounts. They are known as Kingjulian13's minions.
Graphic Art
Edit
Kingjulian13 is also known for his skills in editing photos with GIMP.
Community content is available under
CC-BY-SA
unless otherwise noted.