The Lord of the Rings/Star Wars crossover is a fairly established part of the LSW community. A crossover occurs when Gollum runs into clones, Qui-Gon Jinn battles Orcs, Mandos vs Orcs, or Obi-Wan Kenobi meets Frodo Baggins (and then faints.) It may exist as a stopmotion, short story, or simple comic.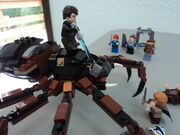 "When You Get Lost", a stopmotion by ErinKenobi2893
"Tales from the Woodland Realm", a series by FrodoLives-SauronDefeated
"Quest for the Ring" a series by vonness11
"Mandos vs. Orcs" a series by
bgirlabby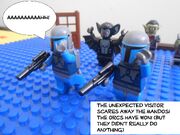 It is uncertain who posted the first LotR/SW crossover, but it has become a popular element with all of the LotR/SW fans on the Gallery.