Mgrif10 is a user on the Lego Star Wars Creations gallery. He made his account on July 19th of 2011,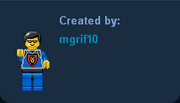 and posted his first creation on June 12th of 2012.
Mgrif has been on the gallery for quite some time, but rarely posts creations. He mainly sticks to commenting, many times on Superseaturtle's creations.
He disappeared for several months, but recently returned.