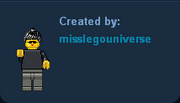 Misslegouniverse2143 is a user on Lego Star Wars Creations.
The Beginning
Edit
When she first signed up, she thought of herself as a nobody for awhile and was very close to deleting her account. Then, as she started uploading more and more creations, she gained more friends and confidence.
Characters
Edit
Later on, she created three characters; Delena Staraxe, a Jedi Knight, Delena's future Padawan, J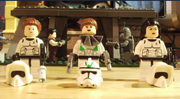 aylin Marcee, and last but not least, Republic Commando Chaos, who is quite goofy considering he's a commando sniper.
Miniseries
Edit
She then posted her first miniseries, which was about 3 female clones in the Republic army, and entitled "Dame Squad". She later canceled it for unknown reasons. MLU then started posting her newest miniseries, 'Renegade vs. The
Five', which has been generally well-received. It was apparently based off an argument 
Superseaturtle
and 
Brenkenobi
(MLU's brother) had, however Turtle claims she does not recall this argument. MLU has made another goofy clone character named Biscuit, he's a clone private.
[1]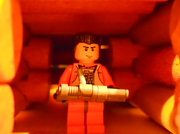 User 'Jalana Quatrix'
Edit
She made an account named after her female Mandalorian Jalana Quatrix. She received little to no comments on creations under this account, so she deleted it.
User 'Luvsprcturtle'
Edit
Then MLU made another account named 'Luvsprcturtle', telling everyone she met she was a new user who was a fan of Superseaturtle's, but actually wanted to test a theory. She put up two creations, one about Superseaturtle, the other saying she was somehow related to Brenkenobi and MLU. She wanted to also see if her first creation as Luvsprcturtle would get many comments, compared to what she got as MLU. Her theory for this new account was that she'd get many, many more comments with her new name, avatar and creation. It proved correct, as she got 41 comments on her first creations as Luvsprcturtle, but as MLU, she only received 10 comments.
As a Creator
Edit
MLU has quite a few friends on Creation. Some are as follows: Erinkenobi2893, Legogimli2000, Starwars2625 (otherwise known as Rith), FrodoLovesBacon (or goldbreaker), Superseaturtle, DannyBeast (in the beginning) and Waros32. She considers these users "very nice and supportive". She has also made some new friends here on the wiki, like Samdudeman120, Kingjulian13, Agenti397, Bunniez6729, and Bowdrie1999, some of which help her with personal issues, these also being her closest friends.

Another of her friends, Erinkenobi2893, has inlcuded her in her miniseries, "Stand United", in which she is portrayed as her female Mandalorian character, Jalana Quatrix. Quatrix, in the miniseries, has a little brother named Josin, a  mixture of both her brothers, and herself. She has also joined Waros32's company, Vermintech.
MLU does not think of herself as an excellent creator, but rather just a decent one.
The first video MLU posted that had her voice in it was posted on 2/16/13.
Miscellaneous
Edit
She is from the South and has one younger brother, who is 8 years younger. His account (made by MLU) is "Clonecommandochaos". She also has an older brother named Brenkenobi.
Her favorite SW character is Anakin Skywalker AKA Darth Vader.
She's Christian
Her favorite Christian songs are Amazing Life- Britt Nicole and L.A.- Melodie Joy
She's a tomboy
She has a temper

If you'd like to look at MLU's creations click here.
MLU is also a wiki member, if you'd like to see her userpage, click here.