Misterbun3546 
is a user on the LSWC Gallery with an immense amount of popularity. Some of his clos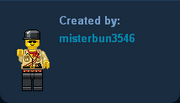 est friends include, 
Superseaturtle
, Devyno100, Benjoseph7,
Masterflavio
, Benchpress1, and many others.
Misterbun was the first user on the gallery to ever reach 400 Creations, and was a
fan of customs, LDD, stopmotion, and decals. He also started a club named after himself, Misterbun3546 Club.
He once teamed up with PTGLego and they offered to make animated versions of any user who requested so.                                            
Jpt23 held a 'battle' between HDisCool and Misterbun in August 6th, 2011, over the customization of LEGO Clone Troopers. 
He has switched accounts and you can now find him under the user CT-3546Customs, though he has gone quite inactive since he posted a Creation titled 'Announcement', giving a message about how LEGO.com has gone a 'little out of control', and Misterbun can now be found on Flickr. 
Miscellaneous
Edit
Misterbun was a famous user on the Gallery
He was the first to have 400 Creations
Takes interest in stopmotions, customs and decals
Exhanged accounts and is now found under the name 'CT-3546Customs'