RepComCustoms
is a creator who posted his first creation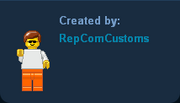 RepComCustoms has been on the site since February 2012. A short time afterwards, he joined the Enchridion Force. He became a good friend to many users, and his comic series, "ImperialBusters", was a huge success.
He has talked about leaving the site several times, and has done so on occasion, only to return a few weeks later.
Some of his most known customs are his Roleplay character for the Star Wars Roleplay on the LEGO Message Boards, Mij Goore. Another one of his most known customs is Clan Skirata, a group of Republic Commandos, Null ARC Troopers, Jedi, and a Mandalorian. Rep, as he is called by friends, got the idea to make customs of Clan Skirata from Karen Traviss' Republic Commando book series.
Miniseries Works
Edit
Soils of Despair: Rep has recently started a miniseries called Soils of Despair, which revolves around his fictional Mandalorian character, Mij Goore. Details of the series have not yet been revealed. The series has been cancelled on the Creatons board.  
As A User
Edit
RepComCustoms is known for his laid-back attitude (although he can be uptight sometimes). Superseaturtle jokingly refers to him as a "good ol' Southern boy". He is extremely supportive, and very quick to come to the defense of his friends.
Miscellaneous
Edit
He is a fan of the TV drama show "NCIS" and lives by Leroy Jethro Gibb's Rules
He is a very good friend to Superseaturtle, having helped her through some tough times.
He's a good friend in general to have.
He's a fan of conservative talk radio. Some of his favorite shows are America Now with Andy Dean, The Rusty Humphries Show, Glenn Beck, and the Pat and Stu Show. 
He is also a firm believer in several conspiracies. 
Community content is available under
CC-BY-SA
unless otherwise noted.