Rex_Cody's signature,  ⤵৳♄ℇ ⊂⊙ℳℳⓐ₦Ⓓℇ®⤹ (made by Agenti397 ) 
Rex_Cody297 is a user on LSWC. He shares his account with his
younger brother. He is also a member of
Kingjulian13
's
582nd Club
. He founded a club called RBC, a.k.a Rancor Battalion Club.
His first Creation was posted on March 11, 2012. His 50th creation was posted on December 20, 2012.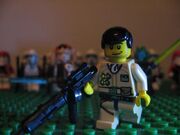 He posted a miniseries  called "The Log of 88".
On his creation, 'Announcements', he said, #1 Battle of Ruins is coming soon, #2, Three slots in RBC were left, #3, his miniseries, "The Log of 88", would be discontinued, #4, he said he wanted to start a weapons club like Vermintech, called Republic Weapon Industries, and lastly #5, Order 66 would be coming soon.
After his 50th Creation he slowly grew inactive. So on Feb 10th, 2013, he said he was leaving the gallery.