Starwars2625
is a user on LSWC.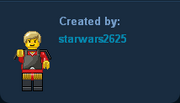 He signs his creations with the motto, "Don't stop brickin!" Rith (as he has asked users to call him) currently has a miniseries called, "A Warrior Alone",  which is fairly popular. He is also writing another miniseries named, "Tale of Assassins", with another LSWC user, S-RileyWest, a good friend of his.
Rith is also on the LOTR gallery, but only comments, due to the fact that he has no LoTR sets.
Friends on LSWC
Edit
Rith's best friends are:
Rith has been on LSWC for more then a year now. He first came up with the name Rith after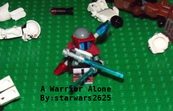 having a naming contest for his minifig, that would be the main character in his new, miniseries. The full name was Ronith ShadowBlade, Starwars2625 liked the name but shortened the name to Rith. He has since used that name as his personal identity.
In the miniseries "A Warrior Alone", there are currently six main characters, Rith Shadowblade, GalaxyFox39 (Or Tauriel,) who was the first to enter the series, Xander (Bowdrie1999), Jace (Clones321) and Riley (S-RileyWest). The newest Character is Saira Fett, who is not based on any known user.