T-Rex8007 is a user on LSW Creations.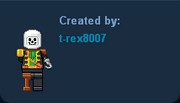 Creations Style
Edit
Rex has two types of creations: miniseries and comics. He also has posted a stopmotion. He has a miniseries that has been kept around for a while: "The Story of the True 501st". His one and only stopmotion is called "My first Stopmotion!". His humorous comics are mainly about his Mandolorian, Mandy trying to annoy the Wizard, Gandalf the Grey. His creations started with: "claw destroyer".
Mandy is based off of Vonness11 stupid clone in his series "Clone Adventures".