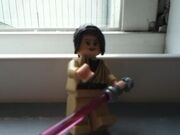 The Siri-Is-Alive Club was formally founded on January 4, 2013 by ErinKenobi, as a rebellion against Siri Tachi's "death" in "Secrets of the Jedi."
Conception
Edit
The idea for the Siri-Is-Alive Club was actually concieved much earlier in a chat that Erin had with Dack (aka Legodude4805) and a few other users. However, the idea was not taken up for several months, until the club was officially founded in Erin's creation "Club Meeting."
Erin had been talking with her friends on one of her creations and reportedly commented, "I don't want Siri to be dead! All up for the Siri-Is-Alive Club!" However, this was on one of her older creations and would be difficult to verify.
Founding and History
Edit
On January 4, 2013, Erin posted her creation "Club Meeting," the first meeting of the club. This was met with immediate enthusiasm from Siri Tachi fans, such as FrodoLovesBacon and Awesomenoa. FrodoLovesBacon is, to date, one of the most active members of the club, having posted several customs for it.
So far, the club has had two official meetings, and plans for a cooperative miniseries are also in place. The series is to be called "Siri Tachi: A Life of Loss," and the tag will be "stlol." The series will follow the adventures of Siri after Order 66.
On February 28, 2013, Erin posted the first part of the miniseries.
The current members of the club are;
ErinKenobi, Founder
FrodoLovesBacon
padme2132
Clonecomander684
MasterYoda925
KickRad
tinyeeeeeeeeeeeeeeee 
SadieAmidala