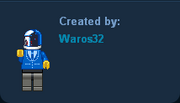 Waros32
is the fifth and final member of the Fearsome Fivesome. He is known for his LDD creations, and his company, called Vermintech.
The Beginning
Edit
Waros began by commenting on samdudeman120's creations. He often had conversations with superseaturtle. Eventually, he joined the Fearsome Fivesome. He was the only member to officially join.
After Sam disappeared, Waros did too. He didn't return until months later.
The Doomstar
Edit
Early into his time on creations he was promising a massive ship called the Doomstar. He did not have any creations for quite some time,  but eventually began posting.
The Doomstar came after months and months of delay. It was extremely well-received, and as of 1/28/13 had 185 comments.
Vermintech
Edit
Waros started a weapons company called Vermintech, "hiring" other users as "employees". It started a rash of companies on creations, but none as successful.
Vermintech even has its own website: www.vermintech.com