Yakobay
is a customization-concentric user on Creations. He is a member of the
582nd Club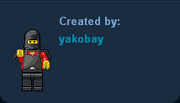 and
Enchiridion Force
, of which he is the founder.
Yakobay has uploaded customs from the very beginning of his time on LSW Creations. He has also had a number of miniseries, which held the unfortunate reputation of ending without conclusion.
On his 100th creation, yakobay created Enchiridion Force, a group which was largely active for a brief period of time, then unofficially ceased.
Creation Style
Edit
Yakobay has made many customs, stop-motions, and LDD creations. He is mostly noted, however, for his customs.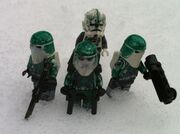 As A User
Edit
Yakobay is known to be friends with EmperorGalvinian, RepComCustoms, JaykoII, CT4445, ARC2197, and Kingjulian13.